Twin Wolf offers remote support for your PC or Mac computer.   Using "Teamviewer" software, I can remotely connect to your computer anywhere in the world.   Now it is possible to diagnose and correct almost any problem without needing to bring it to a computer shop.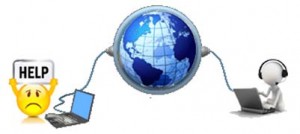 Virus and Malware removal

Setup and adjust software configurations

Diagnose hardware failures

Perform backup and data recovery

Diagnose and correct various error messages

Perform preventative maintenance

Teach and assist the use of new software
The Teamviewer software is free and you can download it here.
Click to download and then Save/Run/Open to install. 

When installing, please select "personal use".
Once it is installed, simply fill out the following form.
Fees for remote support are dependent on time involved and complexity of issues.